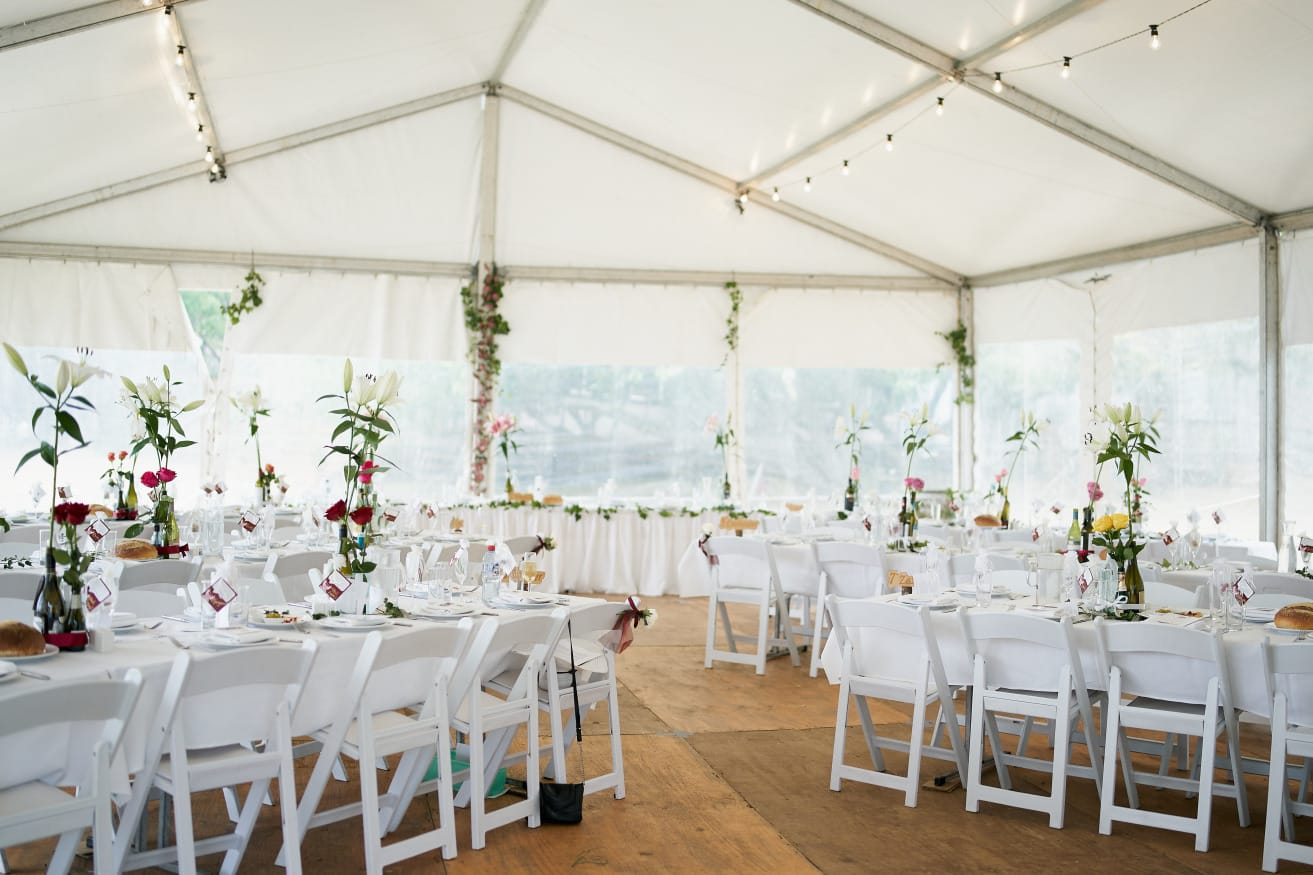 Blue Mountains Wedding Hire
Picture saying "I do"
Welcome to Blueys Event Hire, your premier destination for wedding rentals in the breathtaking Blue Mountains. We understand that every couple dreams of a perfect wedding day, and we are here to make those dreams come true. Our extensive range of equipment for hire includes everything you need to create a magical ambiance for your special day.
Picture saying "I do" under one of our elegant marquees, creating a stunning outdoor venue that perfectly blends with the natural beauty of the Blue Mountains. Accentuate the rustic charm of your wedding with our wine barrels, adding a touch of sophistication to your reception. Our collection of love letters and props will lend a romantic and whimsical atmosphere, allowing you to create a personalised setting that reflects your unique love story.
At Blueys Event Hire, we pride ourselves on our attention to detail and exceptional customer service. Our dedicated team is here to assist you in selecting the perfect items to complement your wedding vision. Whether you're planning an intimate gathering or a grand celebration, our extensive inventory and expertise will ensure that your day is nothing short of extraordinary.
Make your wedding a truly unforgettable experience with Blueys Event Hire. Contact us today to discuss your requirements and let us bring your dream wedding to life amidst the enchanting beauty of the Blue Mountains.
Need a quote, or just have some questions about your event?
Book a Zoom meeting with a member of our team, give us a call, or drop us an email.
Phone: (02) 4782 1023
Email: info@blueyseventhire.com.au
Use the contact form to send your enquiry to our team or to arrange a discovery call via Zoom, use the button below.
Georgia Rosenberger
29/07/2023
Truly great team. I can't say much as they were so efficient I only dealt with them directly to make the booking and then pay the final invoice! The marquee appeared and disappeared when needed and was perfectly set up and sorted. Highly recommend!
The team were fantastic, and their dropoff and pickup service was perfect for what we needed. We used their bentwood chairs and glassware for an event, and everything was delivered neatly and on time. Thanks for being such a pleasure to work with!
Great variety of equipment for hire. Excellent pricing and fantastic customer service from Belinda. Thankyou!
Thanks so much to Blue Mountains Special Event Hire for helping bring our engagement party to the next level! We had a cocktail style party and hired some of their bar stools, wine barrels and festoon lights which were all perfect for the space we wanted to create. The team was so easy to deal with throughout the whole process and very lovely to boot! Thanks again guys!!
Beau Finlayson
25/06/2019
Many places,! Many beautifull views..,Blue Mountains Special Event Hire will bring Marquez and everything else u mite need, to you anywhere as far as blue mountains to windsor, & to the west as far as obereron orange and maybe even further just ask them and create the wedding of your dreams!!
Really great hire company from the mountains. Everything went exceptionally well including friendly staff in the office with great ideas and really helpful to the delivery service and set up. The guys were really top blokes friendly and professional in their building and tear down. Will recomend to anyone who wants any wedding or party needs to go to this great company. Thanks so much.
Hartley & Hound Woodcraft
16/01/2018
We used BM Special Event Hire for props for our December 2017 wedding at Ambermere Rose Inn. Belinda was a pleasure to deal with. Extremely helpful. The price point is brilliant considering many other prop hire companies charge an arm and a leg, particularly for delivery. They delivered to the venue the day before the wedding so we could set everything up. And they collected on the Monday after the weekend so we had a chance to pack everything up after the event.
So easy to deal with from order, delivery to pick up. Friendly staff.